Facing declining product searches thanks to marketplaces such as Amazon and Walmart, Google amped up its ecommerce search game last week with a new organic search feature: popular products.
Year ago Google replaced its original attempt at organic online shopping, Froogle, with shopping ads. With popular products, organic shopping returns to the search results page with a slick, interactive display.
As shown below, searching for keywords such as "down jacket" can produce popular product listings. So far, the listings only trigger on mobile devices in the U.S. and India and only for searches of clothing and accessories. Popular products usually appear on the second or third scroll down the page, below the ads and an organic result or two.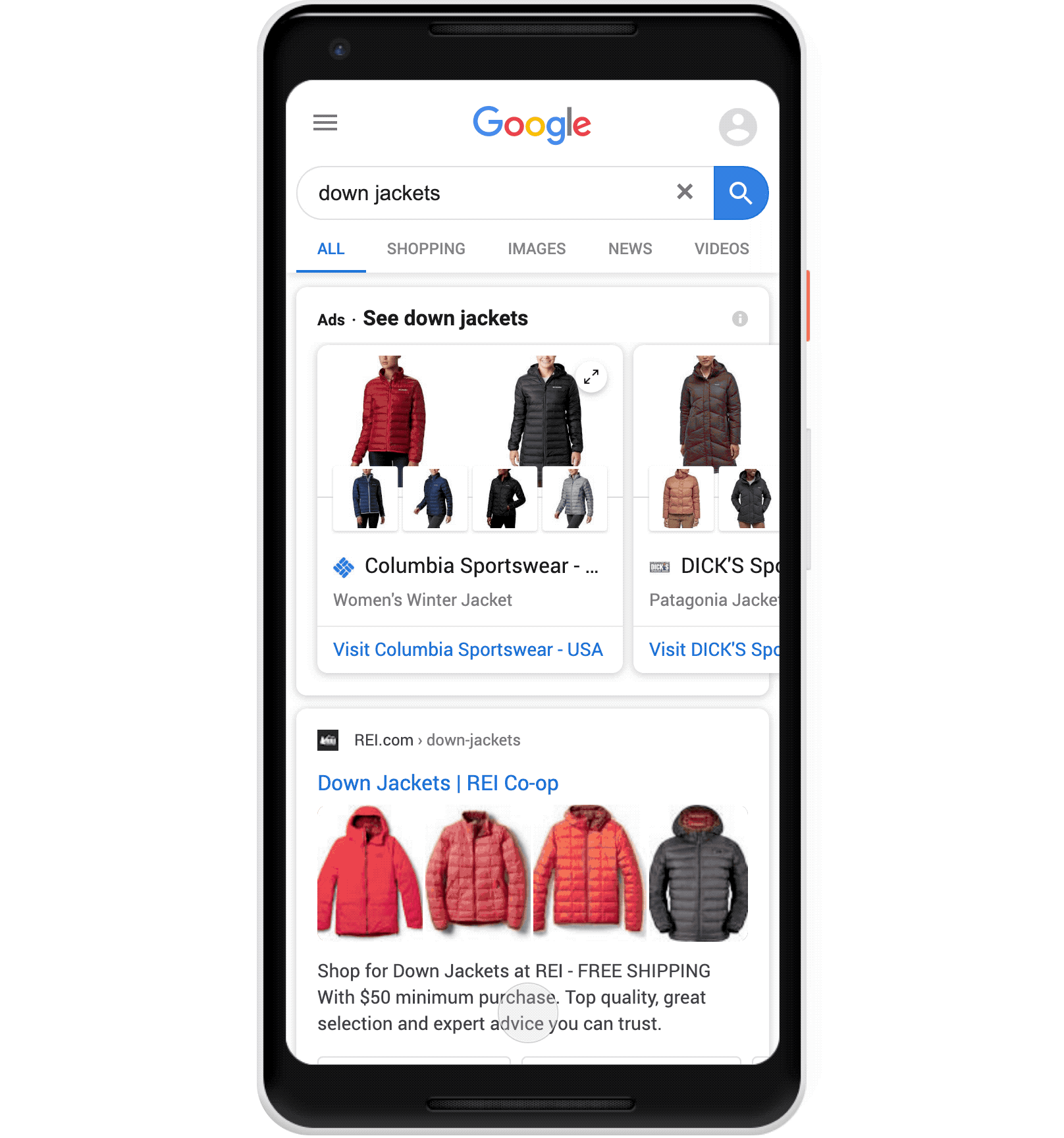 Within the popular products card, clicking on a filter — such as "men" or "puffer" — narrows the selection of products dynamically without requesting a new search results page. Or searchers can click directly on a product to see more details, reviews, and a list of stores to buy the product from, complete with prices.
The data in a product's listing is a mashup of the information found on each of the sites. For example, the product photos and reviews could be from any of the stores included in the list. Google also pulls reviews from those stores, but it seems to emphasize reviews from the manufacturer's site. Thus even an ecommerce site with few reviews or limited product imagery can benefit from the data.
In a way, popular products levels the playing field for large and small merchants. All stores associate with the same images and reviews, so shoppers are free to pick any from the list. But if the only difference is price and name recognition, big brands are more likely to win the click unless another store offers a lower price.
Still, popular products offers smaller ecommerce sites a way to compete, especially if they can price competitively.
No Amazon?
Interestingly, shopping ads and popular products appear on the same search results, which may seem counterintuitive. However, the ads focus on the store — where to buy the product. Clicking on an ad takes searchers to that merchant's site. Conversely, the popular-products section focuses on items that people search for, not who sells them.
The only store I haven't seen in popular products is Amazon.
Amazon ranks in the top three for many of the searches I tested. But it didn't appear in the popular products lists for any of them. For example, Amazon ranks in the top three for "Sorel Women's Joan Of Arctic Boot" but doesn't show up in the list of 13 stores that sell the item. Walmart and eBay are both in the list twice — from different sellers on those marketplaces — but no Amazon.
The reason, however, could be due to Amazon's reluctance to use structured data and shopping ads. Both are sources for specs and details on popular product listings, as explained in Google's documentation for ranking in popular products.

Uploading a product data feed into the Google Merchant Center — the same platform to manage shopping ads — is the fastest path to inclusion. We've addressed how to create a product data feed, at "Real-time SEO: Create a Google Product Feed from an XML Sitemap."
No, buying shopping ads is not required for the popular-products feature. There is still no link between advertising on Google and ranking organically. Any seller can upload data in Google Merchant Center without buying a dollar's worth of advertising. Nonetheless, Google's use of Merchant Center data for organic listings does not help its insistence that the two are separate.
Google's apparent refusal to include Amazon in the new popular-products section should signal to all fashion merchants to immediately implement a shopping feed or structured data. For the latter, see "SEO: Structured Data Markup for Ecommerce Product Pages."